For those of you not following the World Cup, the United States has a big game today against Algeria.
Yes, I live in Italy and am an Italian/American dual citizen, so I also root for the fighting Azzurri of Italia. But you know what they say: you can take a girl out of the USA (OO-sah as it's pronounced in Italy), but you can't take the USA out of the girl.
Apparently, my divided loyalties have rubbed off on my goats, because they can't wait to get their hooves, well, teeth on any and all things red, white, and blue — and these girls really aren't usually clothes nibblers, honestly!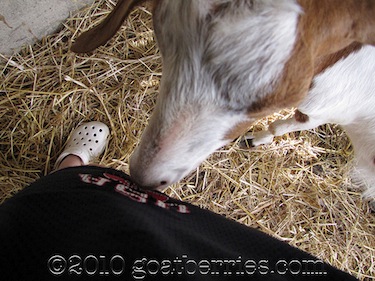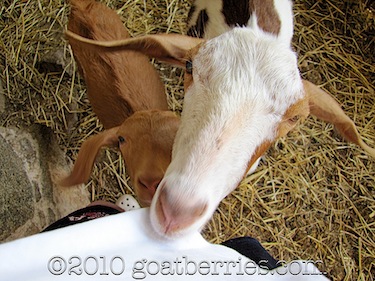 You can't see it from the photos, but my t-shirt has on something like this:

And so USA soccer/calcio/football fans, the next time you need a goat, we have your goats right here. You know, I'm thinking there's a great marketing opportunity in there somewhere…aha!
The Real Goats of USA Soccer.
Bravo? Call me.
Let's bleat.
5 Responses to "The Real Goats of USA Soccer"
---