I recently received a lovely email from a new reader who wanted to share her neighbor, Baby, with the Goat Berries crowd via Goatspotting.
Nancy explained: "I am not a goat owner but actually bought my home because there was a goat family that lived behind my property here in Georgia. Now, 17 years later, sad to say, there is only one goat left, 'Baby,' whose photo I included for your 'GoatSpotting.' I think she is such a pretty girl."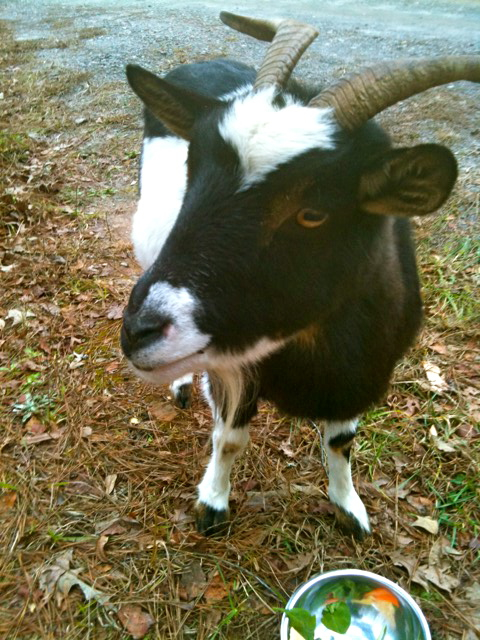 Aw, she is a cutie, indeed! Love those horns!
Nancy takes Baby fresh fruit (especially strawberries), vegetables, peanuts, "and the occasional Ritz cracker."
Lucky goat!
It has taken years for Baby to trust Nancy to touch her, but now Baby loves goat petties on her face, horns, neck, back, etc.
Nancy writes that she hopes to one day have a small farm where she can raise goats of her own. We hope you will be able to realize this dream, too, Nancy; you are going to make a great goat maaaaaaa someday since you're already a fabulous goat aaaaaaaauntie! Thanks so much for sharing your goat story!
Remember if you spot a goat out and about or would simply like to share your goat story, please contact me!
---