Certain members of the canine persuasion are apparently a bit peeved that the goats get a whole entire blog. "What are we, chopped liver?" may have been uttered.
So without further ado, I'd like for you to meet the canine companions around here: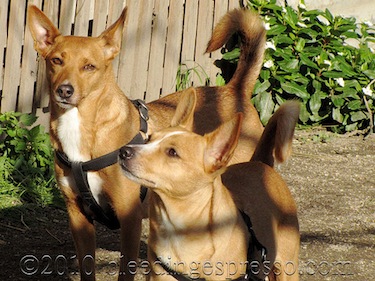 Luna is the larger (and older) one in the background, and Stella is in the foreground. And yes, their tails are like question marks. Hee hee. For those who don't speak Italian, "Luna" means "moon" and "Stella" means "star."
We didn't get the girls together, and they're not even related, but they've become like sisters — and both are mildly interested in the goats. Honestly they don't pay much attention to one another, which I suppose isn't necessarily a bad thing.
Anyway, if you're curious to learn more about the canine girls, they have both kindly taken out time from napping, eating, and walkies to fill out memes at my other site, Bleeding Espresso:
Getting to Know Luna
Stellaaaaaaaa!
Do you have canine friends?
If so, please feel free to pass along the meme to them and let me know where to find the answers! I'm trying to convince Pasqualina to fill one out, but so far she just wants to chew on it, which doesn't make the MacBook happy. And when the MacBook ain't happy, ain't nobody happy.
5 Responses to "Dogs Meet Goats: The Canine Companions"
---