All of the kids are now two weeks old. Whoa.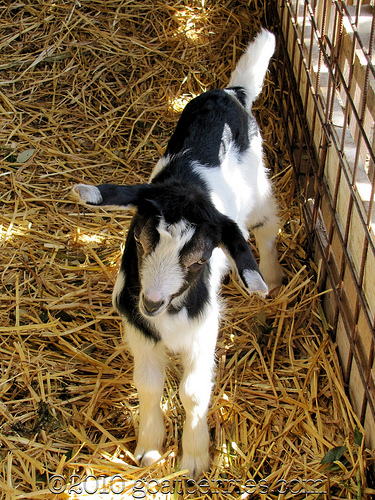 It's strange to think back to a time when we had no idea what they'd look like, how many of them were in the girls' bellies, or even whether they'd make it through the birth OK. What a huge relief that all the births went well. I can't stress that enough. I was *so* nervous and anxious reading all the horror stories on the Internet.
I hear pregnant women say things like that all the time–how reading information on pregnancy tends to scare you because it's all the bad stuff that gets written about. Well, goat birth stories definitely did the same for me. Of course it's nice to be prepared for the possibilities of complications, same as with human births, but still…it can really get your imagination working overtime. I had lots of really scary thoughts about having to deal with a breech birth or worse….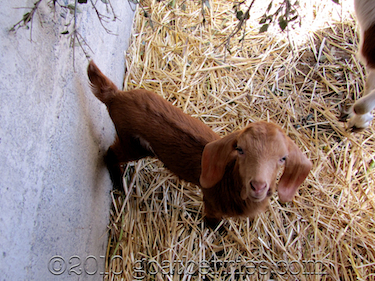 Anyway, can you do me a favor and tell me whether you think they're growing?
It's so hard to see the changes when you're with them every day, but every now and again, you get a good glimpse like in this photo with Nina's baby hooves up on the gate. Doesn't she look enormous?!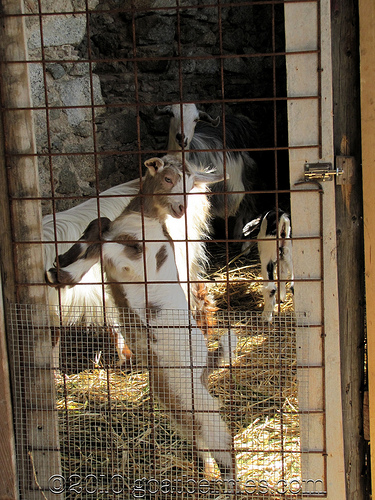 One of the coolest things in the past two weeks has been seeing the difference in their confidence levels.
They used to stand on my lap with these shaky, wobbly legs. Now they love to use me as a springboard as they jump up and off my lap — sort of like mini-skateboarders with the way they're starting to kick out their legs off to the side on the jump.
They also rather enjoy just boinging around the pen, off the walls, off whoever might be standing there videoing the whole thing. etc. YouTube wasn't so kind on the quality of this video, but you can still get the point, I think.
It's *so* easy to spend hours in there with them.
6 Responses to "Two Weeks and Counting"
---