Yesterday I went to visit Margherita, Carmelina, Colombo, and Nina in their new home. You remember them, right? From before we thinned the herd?
Well I'm happy to report that all four are doing *wonderfully.*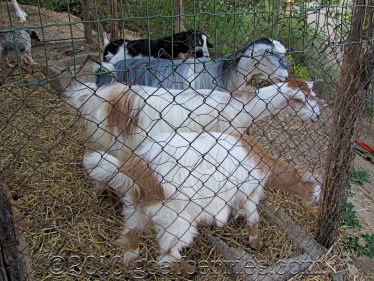 Their coats are shiny and clean, and oh my have the babies grown!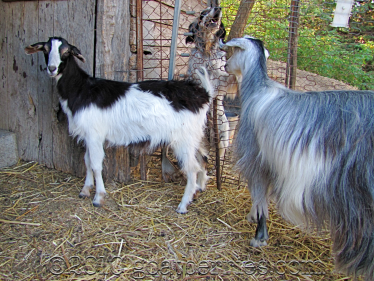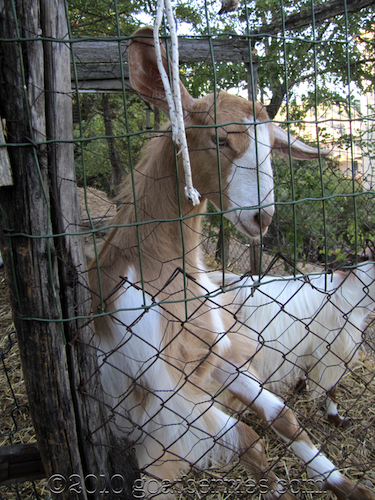 I'm saddened to report that Colombo wouldn't come to me at all.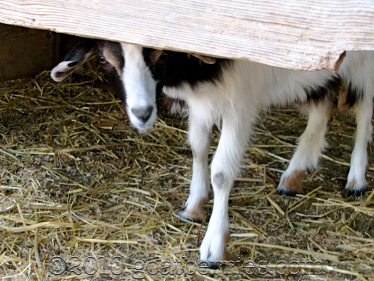 He seemed to have absolutely no recollection of all the hours we spent playing in the pen, but then he was the shyest of the three kids.
Baby Neeners warmed up to me very quickly though: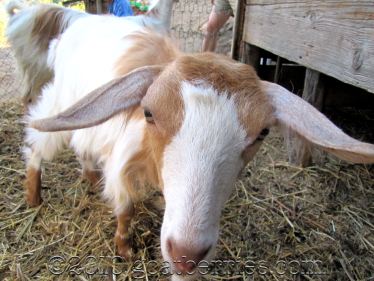 I always did have a soft spot for her. Isn't she becoming a *gorgeous* goatie?!
Then as I petted Nina, something clicked in Margherita as she seemed to recall all the face scratches she got from me during the previous year– and then she wanted more even after I left the pen.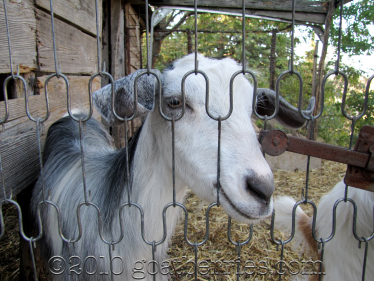 Such a sweet face! I always called her my capra-cuccio (CHOO-choh) because her big eyes always reminded me of a donkey (cuccio means donkey in Italian; capra means goat, of course).
Carmelina was her usual self. She never was one for petties, but I did manage to sneak some in anyway when she wasn't hovering around the fence looking for food. Yup, same old Carmelina. Always hungry.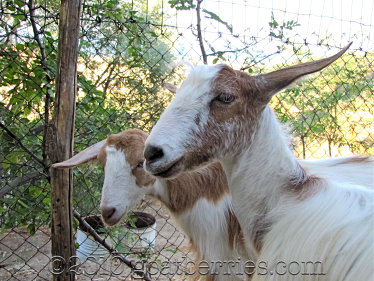 But you know what really warmed my heart? When the guy now taking care of them said, completely unsolicited, "Mò non riesco ad ammazzarle!" Now he couldn't bear to slaughter them.
Yay! It always was part of the deal that none of them would end up on a table, but you never know — and it was great to hear that he had really fallen for the girls and Colombo.
Our lil' buck-in-training, by the way, just may be off to the next town over to become a stud. Fingers crossed it all works out for him — and that he'll be more friendly with his does than he was with me.
I'm so happy they're all doing well, but I have to admit I was in a bit of a funk after we said good-bye. All over again. Just like they got on the back of that Ape yesterday.
I already missed them only minutes after seeing them, so I did the only thing I knew would lift my spirits back up. I visited the home pen to see my Pasqualina, who will always be my baby no matter how big she gets.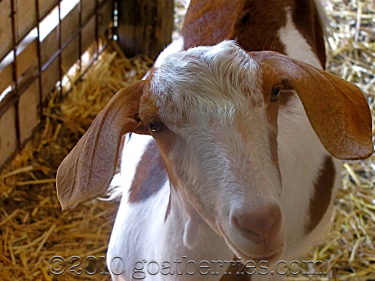 There's just nothing like a girl's first goat love.
7 Responses to "Visiting with Old Goatie Friends"
---