What's that you say?
Goat Berries on Facebook now has 100 "likes?"
Woooooooohooooooooooo!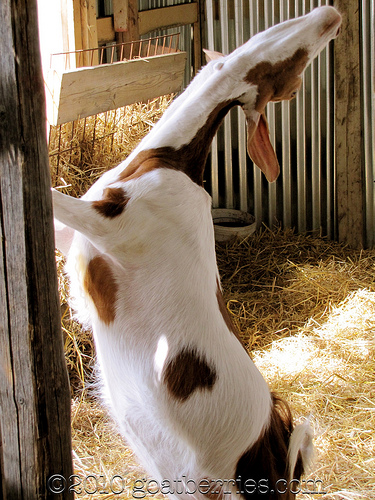 Thanks so much to everyone who helped Goat Berries on Facebook reach the ever-so-cool 100 "likes" mark! Onward to 200!
If you haven't yet visited us on Facebook, please do because I post a lot more goat-related links and pen updates over there as well as on Twitter @goat_berries.
Plus these are great ways to meet and chat with other goat lovers like yourself — who, I have to say, are a really welcoming, wonderful bunch. It's such a joy and privilege to be a part of the Interwebs' goat world!
Thanks again for reading!
Lots more goatie adventures to come, including our first experience with watermelon rinds….
3 Responses to "Goat Berries Reaches 100 "Likes" on Facebook!"
---