I got a lovely surprise in the mail the other day from a Bleeding Espresso and Goat Berries reader turned friend, Jill. She had spotted some drawings by a Brooklyn-based artist named Charrow in New York City, and then checked out her Etsy shop once she got home.
While browsing online, Jill came across this: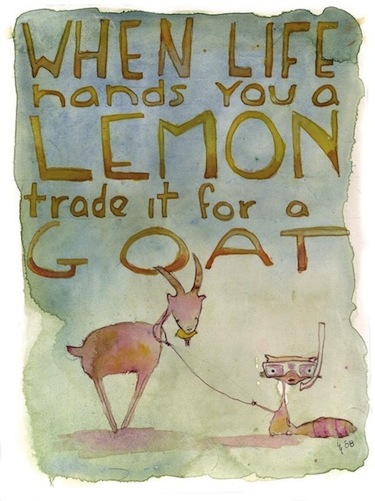 Gah! Adorable!
So carissima Jill snatched it up and sent it to me (blank so I could use it, but truth be told, I might frame it!) along with the sweetest note on another *adorable* card about thinning our herd, reminding me of all the joy that the does and their kids brought as I continue to deal with their absence.
Thank you so much, Jill, not only for thinking of me, the kind sentiments, and the adorable card, but also for introducing me to Charrow, a fabulous new-to-me artist! Love her stuff!
5 Responses to "When Life Hands You a Lemon, Trade It for a Goat"
---