Last summer was our first summer with goats, and my first experience with goats, so I wasn't very adventurous in what to feed them. They were only between five to seven months old at that point, so I was nervous I'd give them something that would upset their digestive tracts. We stuck to feed, fresh grasses, and hay.
Now that lots of fruits and veggies are coming into season, though, and we have a big strong Mamma goat, I feel like it's time to test Pasqualina's palate. Besides, there are also a lot more peels and shavings and even the errant strawberry that's going off, so it's a great way to recycle the food, so to speak (if the goats don't eat it, it goes to the chickens).
So after making sure the food is not poisonous for goats, I've been trying new samples with Pasqualina, always a little at a time as you never want to give goats large amounts of any new food as it can, indeed, upset their digestive systems.
You've already seen some results of our new experimenting with pea pods and cantaloupe; Pinta hasn't shown interest in anything but the pea pods and prickly pear cactus so far, but we'll keep an eye on that too.
One huge surprise for me has been the strawberry. Pasqualina won't even take one! How can you not like this fresh from the garden?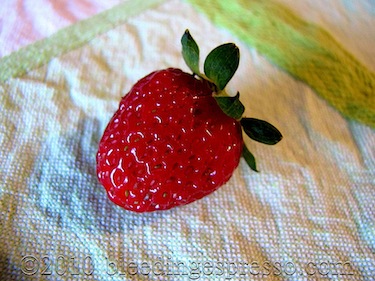 It's been a fun experience for me, so I'm now keeping track of what Pasqualina (and eventually Pinta) likes and doesn't like to eat on a page called "Goat Eats," which you can always find in the upper right corner of every page.
Please feel free to tell me what your goats like and don't like in the comments!
12 Responses to "What's New on Pasqualina's Plate?"
---