I know this topic is something that mothers of human babies deal with all the time, but did you know goat maaaas must deal with this as well?
Inevitably there are times when goats, especially kids, cry for their humans. They may be hungry, they may be thirsty, or they may just want some company. Goats are *very* social creatures and hate being left alone, which is why they say you should never have just one goat. Indeed, it's the reason we added Margherita last year around this time, so Pasqualina wouldn't have to be alone.
Before we found Margherita, Pasqualina would WAIL when we left her. And I don't just mean quaint little bleats. She actually sounded like she was in pain — and quite frankly, she probably was, emotionally. Poverina! She was just a wee lass at the time, so it's not surprising that she wanted us around.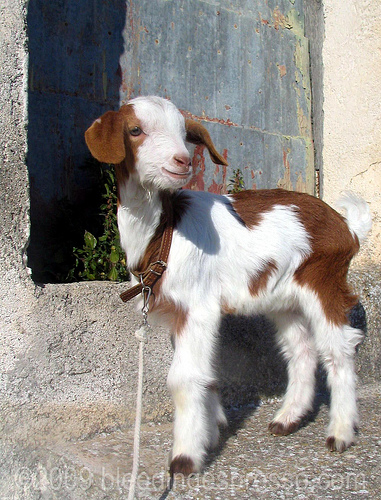 But then along came a buddy, and she was fine ever since.
Now, though, since we've taken out the others, it's just her and her daughter Pinta in the pen . . . and she again cries when we leave. Not all the time, not as dramatically, and not for nearly as long as she used to, but ask any mother (of humans or otherwise), and she'll tell you just how heartbreaking it is to hear their kids cry.
And although I don't know that I could let human kids cry it out (taking after my mother in this respect), with goats, you just have to walk away — assuming you can't play in the goat pen all day.
10 Responses to "Letting Your Kids Cry It Out"
---