Following up Answering Goat Questions: Part I, here is Part II:
6. "why do goats poop berries" – This has to do with the way their digestive system is set up (hint: nothing like ours) and what they eat, but you can read all about it at The Straight Dope.
7. "coffee discovered by goats" – Well, yes, kind of. Read all about it at The Legend of Coffee and the Dancing Goats.
8. "training goats" – Hah! Good luck with that. No, seriously, depends on the kind of training you want to do. Goats are highly intelligent, but they can also be stubborn. We've taught two of ours to walk on leashes. I don't know about house-training, though…those little trap doors seem to open and drop a load of goat berries whenever they damn well please.
9. "who is pasqualina" – OK, I don't know for sure that you were actually looking for *my* Pasqualina, but you can find lots of photos of her on Flickr, her kidding story on this site, and various posts about her at Bleeding Espresso.
P.S. She looks like this: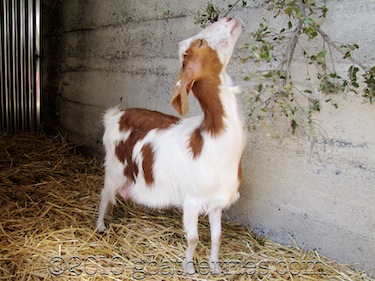 10. "michelle fabio" + paolo" – OK, pretty sure you were looking for us on this one. Congratulations! You are here.
That's all until next time; thanks for finding us!
2 Responses to "Answering Goat Questions: Part II"
---