The other day, faithful reader Lori commented how she wanted to give Pinta a little kiss on her head, and I told her I'd do it for her.
Because you know I kiss the goats, right?
I don't do it when Paolo is around, of course; he thinks kissing the dogs is weird…imagine what he'd think of goat kissing!
And you know what else? I don't only kiss them on the head. Yes, I think it's time I come clean.
Come in close…
Closer…
I kiss them on the lips.
Yes, it's true. And I know I'm not the only one who does this. How do I know? Because of this adorable design from GetYerGoat.com: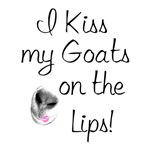 Phew. I feel better now.
Wanna smooch?
Dammi un bacio!
(Give me a kiss!)
7 Responses to "I Kissed a Goat…and I Liked It!"
---