When I started reading up on goats, I quickly realized there are many terms other than "goat" and "kid" that are important to know.
I was reminded of this by Dianne of La Bella Lingua yesterday in the comments, so especially for those of you new to this goat thing, here are some common goat words you're likely to come across:
Kid: a goat from birth to six months of age
Doeling: sexually immature female goat (kind of like a pre-teen)
Buckling: sexually immature male goat
Doe: sexually mature female goat
Dam: a female goat who has kidded a.k.a. Mamma Goat
Buck: sexually mature male goat (also sometimes called a "billy")
Wether: castrated male goat
Yearling: one-year-old goat
You may also see the term "chevron," which is, no not the energy company, but the technical term for goat meat.
Another interesting term I've come across is "freshen," which is what happens when the doe gives birth and begins producing milk. Isn't that quaint? Our does freshened up a storm a couple weeks ago! Hah!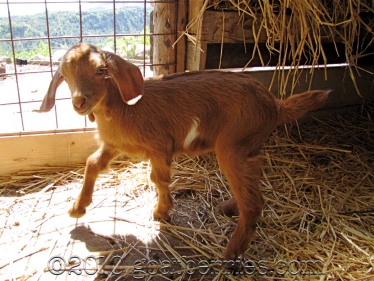 In the coming days, I'll write more about the basic facts of breeding/kidding, feeding, behavior, etc., but if you have any burning goat questions along the way, please do ask in the comments!
4 Responses to "Caprine Terminology: Common Goat Words"
---