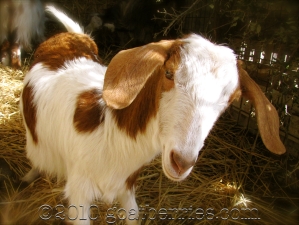 On my nightly after-dinner walk with the dogs, I stopped in at the goat pen to say hello. Margherita and Carmelina came to the gate immediately, but I couldn't see Pasqualina.
So I went inside and there she was, kind of off in the corner, laying down. She bleated to me twice–totally normal-sounding calls. For those who have never owned goats, yes, you do know what's normal and not normal in their cries…and you can even tell them apart. She usually gets up to greet me.
I petted her a bit, felt around her tail for the tell-tale ligament loosening that happens when a doe is preparing to give birth, and I will say, they do feel looser than normal. But it's my first time! What do I know?
Anyway, things *do* seem to be proceeding as they should, except I can't help being a worry wart, thinking "What if she's laying down because she's not feeling well…you know, other than having a kid or more inside of her wanting to get out?!"
I was the same way when Stella was having puppies a few years ago, by the way, always thinking of worst case scenarios. I like to think it helps me be prepared in case I'm called into action (animals generally can take care of this stuff on their own, right?), but I think all it really does is give me insomnia.
Pfft….
P.S. A *huge* thank you to the wonderful Naimhe Jeanne and Martha Ann of All Things Goat who are helping to calm my nerves!
5 Responses to "The Kidding Process: One Nervous Goat Ma"
---