I didn't necessarily plan on bringing Love Thursday from Bleeding Espresso over here to Goat Berries, but then a little kid named Pinta was born, and I had no choice.
First, let me back up and assure you that I am *not* making the following story up or embellishing in any way. You can ask Paolo any time you see him, and he'll confirm.
A few weeks before Pasqualina delivered, we were playing proud parents just gazing at her changing body from outside the pen. I looked at Paolo, pointed to Pasqualina, and very plainly said, "She's going to have a kid with a heart shape on her side."
I'll admit, I had imagined the coloring the opposite, in which the kid now known as Pinta would be mostly white and have a reddish-brown heart, but do you see it?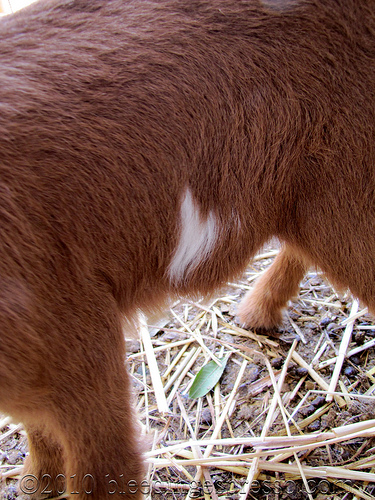 I spotted it almost as soon as she was out of Pasqualina; indeed, it looked even more obvious when she was all wet and goopy.
I don't know which came first, the thought or the heart, but what a special little Pinta we have here. I know Pasqualina thinks so too.
Happy Love Thursday everyone!
Hug a kid, would you?
15 Responses to "Love Thursday: Pinta's Heart-Shaped Stain"
---