It's been quite a while since I've posted here about what is going on in the pen, and there have been some rather large developments, so here we go.
First of all, our little Gioia went to her new forever home back in November. We are not really a goat enterprise here (understatement), and although I'd love to keep anywhere from five to ten goats, we just don't have the space. Hopefully someday that will change, but for now, we're limited to keeping two, and so we had to choose between Gioia and Gemma. Even though Gemma is a *huge* crybaby, we went with her since she is naturally polled (hornless) as is her mother; thus we could keep our pen horn-free.
Besides, sweet little Gioia had a different destiny ahead: she was fated to be a milker among a small herd of goats in the next town over. It all happened so quickly, and it was raining on the day she left, so I didn't even get to snap final photos of her here. But here is an older one from when she was a wee kid.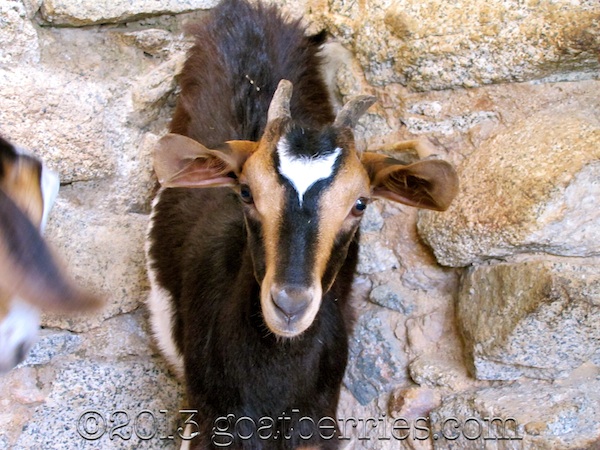 I do miss her, but as many of you know:
This is life with goats: some are in your life for only a short time, but every single one touches your heart.
The next set of news is that a buck has been in the pen with Pasqualina and Gemma since mid-November, just after Gioia left us. P decided to get the same buck as last time, who had become a total sweetheart by the end of his previous stay.
And I'm happy to report that he totally recognized me!
Last time, it took a good few weeks before he would let me get close to pet him, but this time, he came right to me, nearly demanding face scratchies. I don't think he gets much of those where he lives, so this has truly been a vacation for him. And he hasn't headbutted me even once. At least not yet.
Isn't he handsome?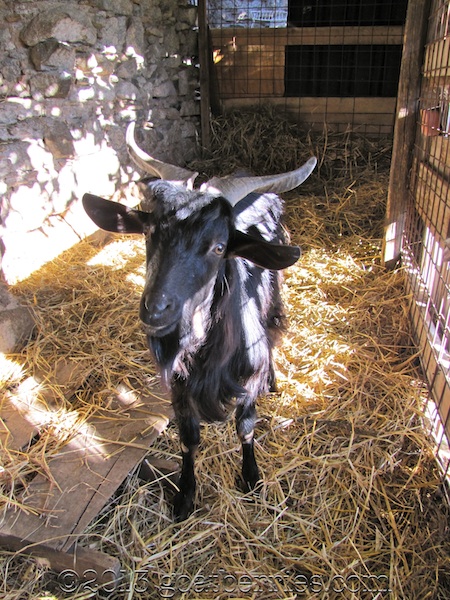 We'll be giving him back to his caretaker shortly, and then we wait to see if the girls are "with kid."
Fingers crossed!
Are you breeding your goats right now too?
What's new in your goat neighborhood?
8 Responses to "Update from the Goat Pen!"
---