I was recently back in the United States for a visit and had the chance to go through some old things, including photos. Lo and behold, look what I found: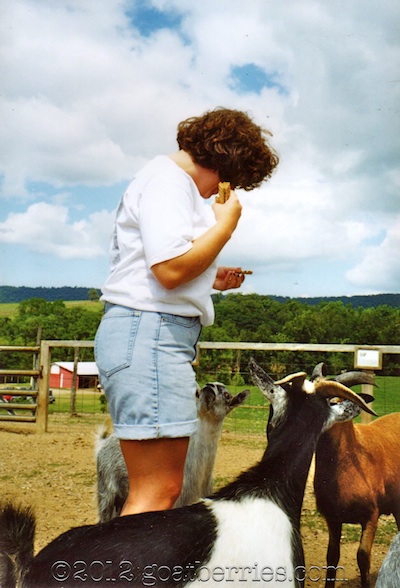 Documented proof of my first encounter with goats!
This was 1997 or so at a petting zoo in a place called Lake Tobias Wildlife Park near my hometown in Pennsylvania. I just remember thinking how wonderful these little creatures were, that, like dogs, they would follow even a stranger around for treats and when they'd hop up on you with their front hooves, you could barely feel them since they balanced their weight themselves (very *unlike* dogs).
Who knew that years later I'd have my very own goaties to give treats to?
Do you remember your first goat experience?
Was it love at first nibble or did you have to come around to the idea of goatie friends?
10 Responses to "My First Goat Experience"
---