Back in October, I blogged about the girls' favorite buck over at Bleeding Espresso, but for anyone who missed it, or just for a quick reminder, here he is: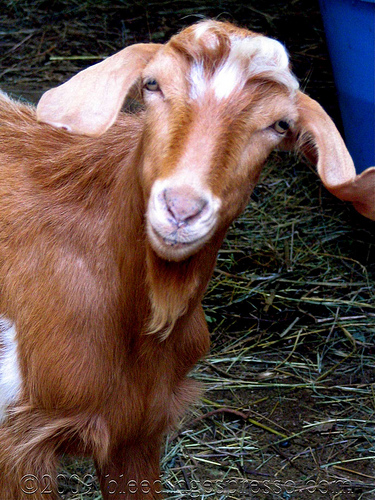 I jokingly refer to him as "Godot" because the girls seemed to be waiting for him.
Handsome devil, isn't he? You can't really tell from the photos, but he has the cutest little tuft of curled blond hair on the top of his head. He's really sweet and gentle too. It took him about a week to warm up to me, and after that he *loved* petties, especially under his chin. I don't think he got much of those at home as his herder had 100 or so goats at the time.
He was in the pen with the girls for about six weeks total, and they seemed to hit it off pretty quickly. I left for the U.S. before Godot left us, so I didn't have to see him go, which is good because it would have been sad for me; it's amazing how quickly you can become attached to an adorable animal!
I did get to see Godot again recently when he was wandering around near our garden with his herd. He didn't come up and say hello though. Too busy cleaning the hillside I suppose.
Anyway, that's Godot. No news yet on Pasqualina's end (no pun intended),* but be sure to keep an eye on this space! Other mums and babies are doing well.
*EDITED: Just got back from the pen and Pasqualina has the whitish discharge that signals something's coming; Carmelina and Margherita both delivered within 24 hours after we saw their discharge. Also, Pasqualina's sides are hollowing out and her tummy is dropping…it should be soon!
4 Responses to "The Buck Who Started It All"
---